Uri Zvi Greenberg
---
Song of the Great Mind
by Uri Zvi Greenberg

Creation of the Universe
by Uri Zvi Greenberg

In a Child's Ear I Relate
by Uri Zvi Greenberg

Those Who Live By Their Virtue Will Say
by Uri Zvi Greenberg

Nation, How Great You Are!
by Uri Zvi Greenberg

The Legend of Yaacov Raz
by Uri Zvi Greenberg

A Land Lost
by Uri Zvi Greenberg

Robbers
by Uri Zvi Greenberg

Anxiety in My Bones Today
by Uri Zvi Greenberg

Homesong
by Uri Zvi Greenberg

With My G-D, The Smith
by Uri Zvi Greenberg

Like a Woman
by Uri Zvi Greenberg


The Great Sad One
by Uri Zvi Greenberg

Jerusalem Surrounded by Walls
by Uri Zvi Greenberg

Decay of the House of Israel
by Uri Zvi Greenberg

Not One Truth but Two
by Uri Zvi Greenberg

Brief Biography



With My God, the Smith
by Uri Zvi Greenberg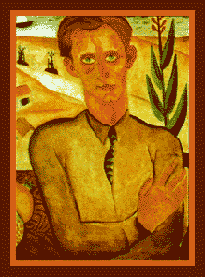 Like chapters of prophecy my days burn, in all the revelations,
And my body between them's a block of metal for smelting,
And over me stands my god, the Smith, who hits hard:
Each wound that Time has opened in me opens its mouth to him
And pours forth in a shower of sparks the intrinsic fire.
This is my just lot - until dusk on the road.
And when I return to throw my beaten block on a bed,
My mouth is an open wound,
And naked I speak with my god:
You worked hard.

Now it is night; come let us both rest.