Issued by David Raziel, the Commander of the Irgun Zvai Leumi
With the deepest sorrow and profound mourning, it is hereby announced that Ze'ev Jabotinsky, first soldier of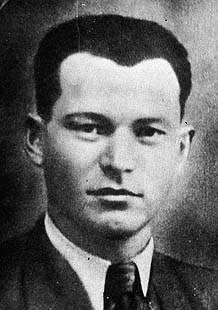 Judea, has been gathered unto his people and is no more, because the L-rd has claimed him.
Ze'ev Jabotinsky, the founder of the Jewish Legion, the defender of Jerusalem and the prisoner of Acre, hero of the eternal struggle for the Kingdom of Israel and Knight of Hadar in his life and actions.
In the days of despair and little faith he caused light to illuminate the darkness; he was always the valiant in the assembly of the desolate; the rising sun of national pride and the hidden light of its hopes.
From the days of the Jewish Legion till the battles of the national youth he bore the ancient dream of the Maccabees through the length and breadth of the Diaspora. Immortal, prophet of the idea of an army, and army of liberation for Israel.
An exile and wanderer, persecuted and oppressed, he bore a brilliant wreath of stars, the triumph of his teachings; and the leader and teacher of a rebellious people.
And as an exemplary leader of the generation of the wilderness - the last generation of slaves and the first generation of free men - he saw the Jewish state from afar, but did not set his foot therein.
Not a mere stone alone will stand in his memory, but the realization of his dream - the National Youth - will sanctify his memory through the redemption of the Holy Land - Amen.