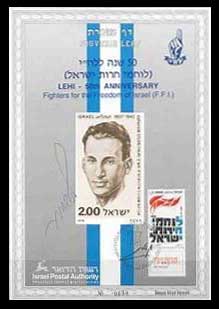 To Those Who Honor the Oath!
The Irgun Zvai Leumi in the Land of Israel was created because we believe the Hebrew state will not become a reality without relying on an independent military body.
The Jewish Agency now hopes to obtain approval for free action for those under its command in return for subjugation to the foreign rule and surrender to the cantonization plans for this land. The IZL in the Land of Israel is charged with the duty of acting as the only real force that will be called upon and will be able to fight for reestablishment of the Hebrew nation in the Land of Israel in the face of the plotting of the external enemy and the surrender to those who are willing to betray us from within.
The IZL in the Land of Israel has been forced by political realty to decide whether to surrender to the power of the government and the Jewish Agency, or to redouble its sacrifice and its risk-taking. Some of our friends were not up to this difficult task. They surrendered to the Agency and Left the battlefield. The large loyal majority continues to uphold the original policy of the IZL. All the attempts by the former command of the Irgun to reach a merger with the Leftist organization have failed, since the Left has not negotiated on the basis of joining forces but of imposing one group's will on the other. Putting the IZL under the authority of the Agency, which is ruled by the Left, is the end of our organization.
There are two organizations today in this land: one is Leftist, run by Left, and to our regret some of our men have joined it. The other is the IZL, which continues to fight for the dignity and the life of the nation being reborn. We believe in the mission of our movement and its power to reestablish the full independence within the historical borders of the Hebrew state. We believe in the youth of Israel's willingness to fight and to sacrifice, having set as its life's goal the might and the independence of the nucleus of Hebrew power.
Anonymous Soldiers!
The nucleus of Hebrew power is prepared for any order or sacrifice!
"Only death releases us from our duty!"