Excerpts from
A Jewish State Now:
Evidence Submitted to the
Palestine Royal Commission


presented by
Vladimir [Ze'ev] Jabotinsky
to the Great Britian's House of Lords, February 11, 1937
... I am going to make a "terrible" confession. Our demand for a Jewish majority is not our maximum -- it is our minimum: it is just an inevitable stage if only we are allowed to go on salvaging our people. The point when the Jews reach a majority in that country will not be the point of saturation yet -- because with 1,000,000 more Jews in Palestine to-day you could already have a Jewish majority, but there are certainly 3,000,000 or 4,000,000 in the East who are virtually knocking at the door asking for admission, i.e., for salvation....
... I have also shown to you already that, in our submission, there is no question of ousting the Arabs. On the contrary, the idea is that Palestine on both sides of the Jordan should hold the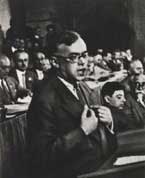 Arabs, their progeny, and many millions of Jews. What I do not deny is that in that process the Arabs of Palestine will necessarily become a minority in the country of Palestine. What I do deny is that that is a hardship. It is not a hardship on any race, any nation, possessing so many National States now and so many more National States in the future. One fraction, one branch of that race, and not a big one, will have to live in someone else's State: well, that is the case with all the mightiest nations of the world. I could hardly mention one of the big nations, having their States, mighty and powerful, who had not one branch living in someone else's State. That is only normal and there is no "hardship" attached to that. So when we hear the Arab claim confronted with the Jewish claim; I fully understand that any minority would prefer to be a majority, it is quite understandable that the Arabs of Palestine would also prefer Palestine to be the Arab State No. 4, No. 5, or No. 6 -- that I quite understand; but when the Arab claim is confronted with our Jewish demand to be saved, it is like the claims of appetite versus the claims of starvation.