Warsaw Speech

The following is an excerpt from a speech given by Ze'ev Jabotinsky in Warsaw, Poland on Tisha B'Av in 1937. [Two years before the Nazis invaded Poland.]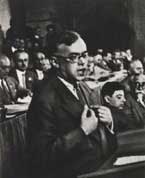 It is already THREE years that I am calling upon you, Polish Jewry,consuming lava. I see that you are not seeing this because you are prognoses have already proven to be right. If you think differently, then drive me out of your midst! However, if you do believe me, then very little.

What else I would like to say to you on this day of Tisha B'Av is whoever of you will escape from the catastrophe, he or she will live to see the exalted moment of a great Jewish wedding - the rebirth and rise of a Jewish state. I don't know if I will be privileged to see it, but my son will! I believe in this, as I am sure that tomorrow

Liquidate the Diaspora or the Diaspora will surely liquidate you.