Those Who Live By Their
Virtue Will Say
by Uri Zvi Greenberg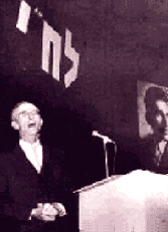 They were the chosen...
They sang...
Now their voices are silent.
The true sons of the race of David that fell with their sword in their hand.
Simple and lovely like young David of the Shepherd Clan...
And they shall praise Thee, O Lord, from the dust they've returned to!
The dust Thou created them from is the dust of death...
This kind of dust whereof Thou createth primeval man.
The Temple Mount and the Rock -
From that dust they'll praise Thee... Immortal are they!
There is no truth, no glory but them.
And we, in this world, do live by their virtue.
And by their splendor we prosper.
Whoever looks unto their graves will ne'er be enslaved any longer.